WELCOME TO JU-SYLFF PROGRAMME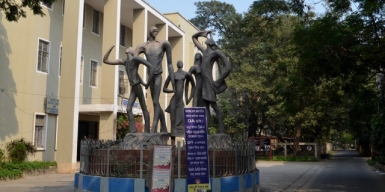 About SYLFF
The RYOICHI SASAKAWA YOUNG LEADERS FELLOWSHIP FUND (SYLFF) is a fellowship programme of The Nippon Foundation, a Japanese non-profit foundation administered by Tokyo Foundation under the approval of Japanese Ministry of Land, Infrastructure and Transport. It provides financial support and opportunities to the best and bright students, exhibiting leadership potential and intending to pursue higher education programs in the social sciences and humanities.
Starting from 1987, as of now, there are 69 SYLFF endowed universities and consortia in 44 countries of Africa, Asia, Central and South America, Europe and Middle East, North America, Pacific. Since the inception of the fellowship programme in 1987, around 15,000 students have received the fellowship.
http://www.tokyofoundation.org/sylff/about/what_is_sylff
JU-SYLFF Programme
In 2003-2004, Jadavpur University became the First Indian University to earn SYLFF status and receive an endowment of one million US dollars (US$1,000,000) from the Nippon Foundation.
Mr.Yohei Sasakawa, President of the Nippon Foundation formally awarded the 67th SYLFF endowment to Jadavpur University on November 12, 2003.
The JU-SYLFF Project director at Jadavpur University initiates and expands the research network within the proposed focus of the programme. The JU-SYLFF Steering Committee under the chairmanship of the Vice-Chancellor of Jadavpur University is responsible for the management of the programme and operations of the Fund.